The 2022 WPT Tampa series played out over two weeks with record-setting fields and huge money at stake. The schedule had 31 primary events and was headlined by the WPT Tampa Championship.
Events: 31
Entries: 10,489
Guarantees: $2,830,000
Prize Money: $10,539,275
For the first time in our history, the series drew more than 10,000 entries and awarded more than $10 million in prize money, two huge records. The opening event drew 1,102 entries for Flight E, another record; this time it was the biggest $600 starting flight in state history.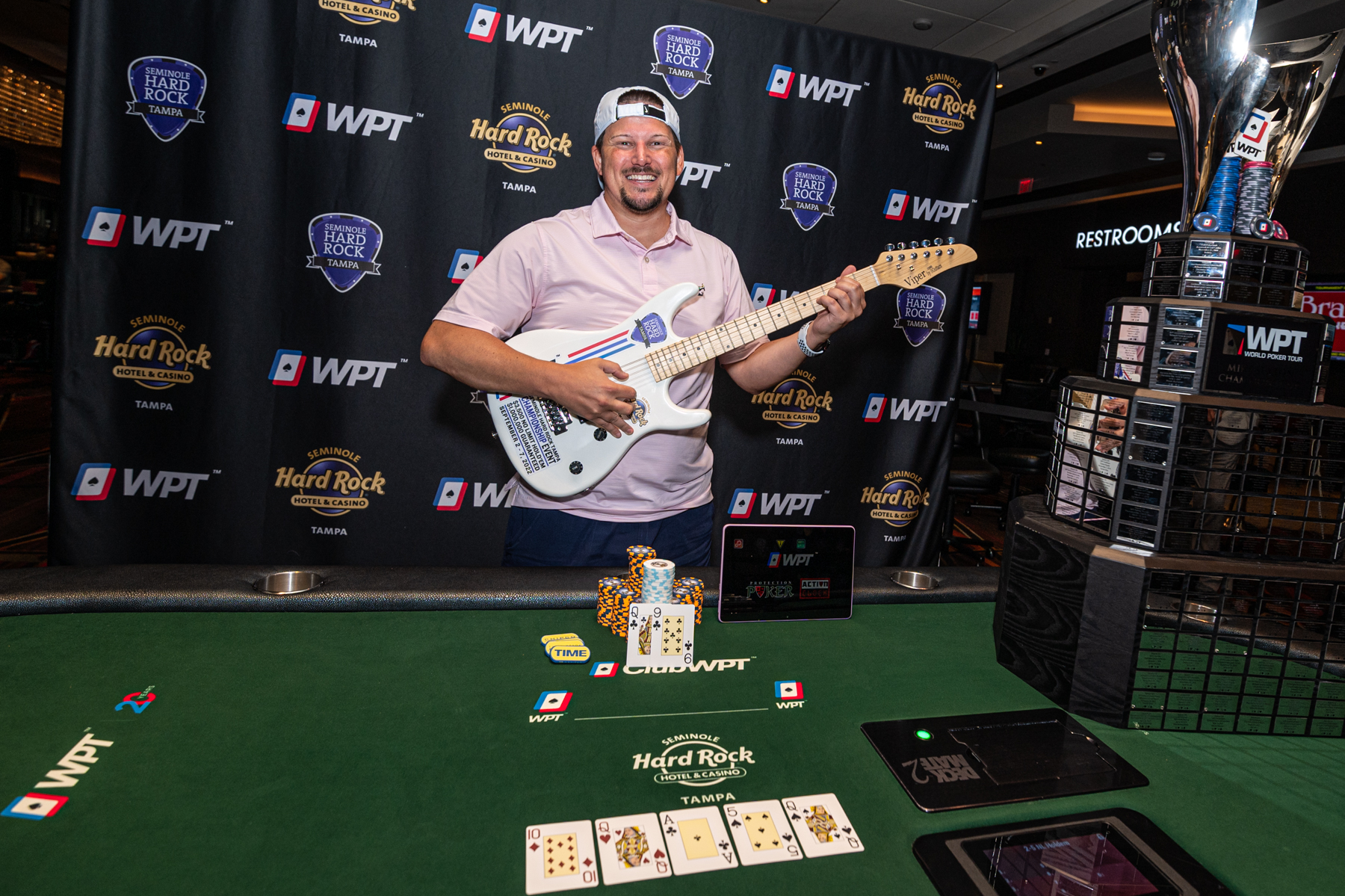 The 2022 WPT Tampa Championship drew 1,165 entries over two starting flights to create a prize pool worth $3,728,000. Both numbers are exactly the same as the 2021 Championship and tied for the biggest in our history.
Corey Wade outlasted a tough table that included locals Fred Paradis and David Tuthill to take the top spot for $471,686.
Other notable victories include Raminder Singh capturing two titles during the series, reigning WPT Player of the Year Jake Ferro winning the $2,200 title, and local favorite John Racener winning our first-ever $25K High Roller (then finished third in the $10K High Roller).
Clemen Deng took home WPT Player of the Festival honors with a win in the $10K High Roller plus a second and fifth place finish earlier in the series.
Record crowds and memorable moments highlighted the two-week series. We could not have done it without our old friends and the new ones we made.
Thank you to everyone for coming out, and we look forward to seeing everyone again for the 2022 Pinktober Poker Open!
WPT Tampa Championship: Corey Wade $471,686
Event 1 ($600 Multi-Flight): Adam Quimby – $240,254
Event 2 ($400 PLO): Vinny Monteiro – $13,135
Event 3 ($1,100 6-Handed): Ken Fishman – $21,980
Event 4 ($250 Ladies Event): Nikita Patalinghug – $6,566
Event 5 ($1,100 NLH): Clyde Maliauka – $30,730
Event 6 ($400 Turbo): Raminder Singh – $7,086
Event 7 ($400 O8): Ardit Bitincka – $9,666
Event 8 ($400 NLH): Michael Hermoza – $21,890
Event 9 ($1,100 NLH): Kevin Oakes – $31,186
Event 10 ($400 Turbo PLO): Nick Yuryev – $12,460
Event 11 ($400 OE): Jon Miller – $9,455
Event 12 ($400 Multi-Flight): Carlos Rodriguez – $55,085
Event 13 ($600 NLH): Raminder Singh – $22,475
Event 14 ($400 H.O.R.S.E.): Kris Lord – $7,045
Event 15 ($1,100 NLH): Brandon Wong – $33,190
Event 16 ($400 Seniors): Jeffrey Nemes – $20,383
Event 17 ($1,700 NLH): Alex Foxen – $53,980
Event 18 ($25K High Roller): John Racener – $246,990
Event 19 ($2,200 NLH): Jake Ferro – $94,490
Event 20 ($1,100 Turbo PLO): Sean Troha – $31,740
Event 23 ($250 Triple Stack): Alex Alvarez – $6,611
Event 24 ($600 Quad Stack): Kodi McDaniel – $12,430
Event 25 ($400 NLH): Daniel Tanco – $18,800
Event 26 ($1,700 NLH): Brett Bader – $60,440
Event 27 ($1,100 Survivor)
Event 28 ($600 NLH): Brendon Shiller – $50,330
Event 29 ($1,100 NLH): John Gallaher – $28,610
Event 30 ($10K High Roller): Clemen Deng – $158,778
Event 31 ($180 Triple Stack): Collin Wilson – $6,495
Event 32 ($5,000 NLH): Jim Collopy – $87,346