2017 Winter Poker Open
Seminole Hard Rock Hotel & Casino
Tampa, Florida
Event 5
$1,650 Main Event
Entries: 671
Prize Pool: $1,006,500
December 14-18, 2017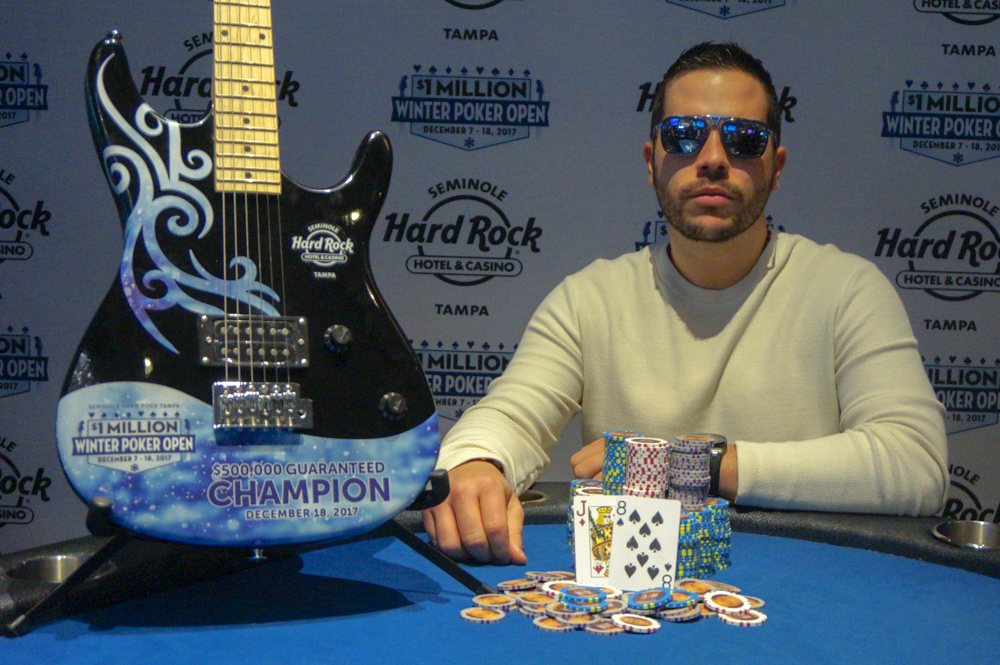 Series finale sees 671 entries generate $1,006,500 prize pool, enjoys year-over-year attendance increase of over 37 percent.
Colombian pro Farid Jattin goes wire-to-wire with the chip lead, records largest first-place score of his career with $241,651 prize.
Tampa, Florida — The Winter Poker Open Main Event at the Seminole Hard Rock Hotel & Casino in Tampa, Florida kicked off Thursday, December 14 in the property's newly-opened, state-of-the-art poker room. The $1,650 buy-in series finale boasted a $500,000 guarantee that was more than doubled by the time 671 entries generated a $1,006,500 prize pool. After the five-day tournament concluded, Colombian pro Farid Jattin claimed the title outright along with a $241,651 score.
"I feel like I put up a really good performance," Jattin said following the win. "I was really, really focused the whole time […] I ran pretty good, but I felt like I played amazing. I don't feel like I made any big mistakes."
Jattin bagged a huge stack in Flight B of the three-flight tournament. He began Day 2 as the only player over the 400,000 mark and claimed the chip lead with the tournament slated to play down to the final 10. The restart lasted the better part of 14 hours as past champion David Bradshaw and John-Christian Templeton hit the rail. By the time the final table was reached, Jattin ended the day just as he started — with a massive advantage.
On the third and final day, Jattin was in front of a tough 10-handed final table that included John Racener, Filipp Khavin, Seminole Hard Rock Poker team member Mike Laake and a slew of Tampa regulars. With 5,500,000 of the 20,000,000 chips in play, it was his tournament to lose and he maneuvered his way to heads-up play busting seven of the tournament's nine final tablists including the aforementioned Khavin fifth, Racener sixth and Laake ninth. There was but a brief moment at the final table where he relinquished the chip lead to heads-up opponent Witold Wasik before ultimately sealing the deal on the largest first-place payday of his career.
"It was a gift from me to me. It's my birthday in two days," Jattin said of his dominant performance. "I thought it was an amazing tournament, well run. The room is amazing and I'll definitely be coming back."
Jattin, born in Colombia, is currently 28 years old and has a home in Miami. He spends much of his time traveling South America and was supposed to be in Prague during the Winter Poker Open, but woke up feeling ill on his travel day. He canceled his flight overseas, but still had the urge to play a tournament. A quick glance through the schedules, he stumbled upon the Winter Poker Open and made his way northwest to Tampa.
"Sometimes crazy things happen," Jattin said of his unscheduled trip to the Tampa property.
The Winter Poker Open enjoyed huge attendance increases across the board. With a $1,006,500 prize pool, the series' Main Event solidified its spot on the tournament calendar as the event to play before the New Year.
"Obviously it's a big, big score, but I'm more happy for myself that I finally got the win," Jattin said. "It's been a while. I'm there all the time. For the volume that I put in, I'm very, very consistent and I don't get the wins. I'm just really happy I got the win finally."
Final table results:
1st: Farid Jattin – $241,651 + Guitar Trophy
2nd: Witold Wassik – $135,878
3rd: Scott Caracciolo – $85,553
4th: Joseph Skarzynski – $69,449
5th: Filipp Khavin – $55,358
6th: John Racener – $45,796
7th: Satish Surapaneni – $36,737
8th: Kevin O'Donnell – $27,679
9th: Mike Laake – $19,124
Next up at the Seminole Hard Rock in Tampa is WPTDeepStacks slated for June of 2018.